(Artikel dari Cambridge International Examinations ini hasil liputan atas seminar Ina Liem kepada para School Councelors dari berbagai wilayah pada sekolah yang menerapkan kurikulum Cambridge)
E

ducation and career counsellors from Cambridge schools across Indonesia attended a one-day seminar in November 2015 on higher education landscapes and the admission processes of key overseas destinations.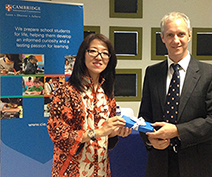 The event was kindly hosted by BINUS School Serpong, a Cambridge school whose alumni have gone on to study at top universities in countries including the UK, USA, Australia, Singapore, China, Germany and Canada.
Participants put questions to expert speakers from organisations such as the Australian Trade Commission, the British Council and EducationUSA, a US Department of State network that provides pathways advice to students wishing to study at accredited post-secondary institutions in the USA.
We were also joined by Ms Ina Liem, CEO of Jurusanku.com, a leading career and education consultancy firm in Indonesia. Delegates were interested to hear her thoughts on 'majors for the future' and her top tips for advising school-age students about higher education and career pathways. Ms Liem said: "To be successful, we must be in the right place at the right time. But that's not enough. We have to be the right person. So before choosing a major, make sure you check these four aspects: interests, talents, personalities, and values."
Kamal Mamat, Cambridge Recognitions Manager, Southeast Asia and Pacific said: "It was fantastic to see so many careers counsellors get together and learn about Cambridge International AS & A Level and its recognition in key study destinations. Delegates had a chance to share their thoughts on education and career guidance, and we look forward to hosting more of these events in the future."
Sumber: Cambridge International Examinations